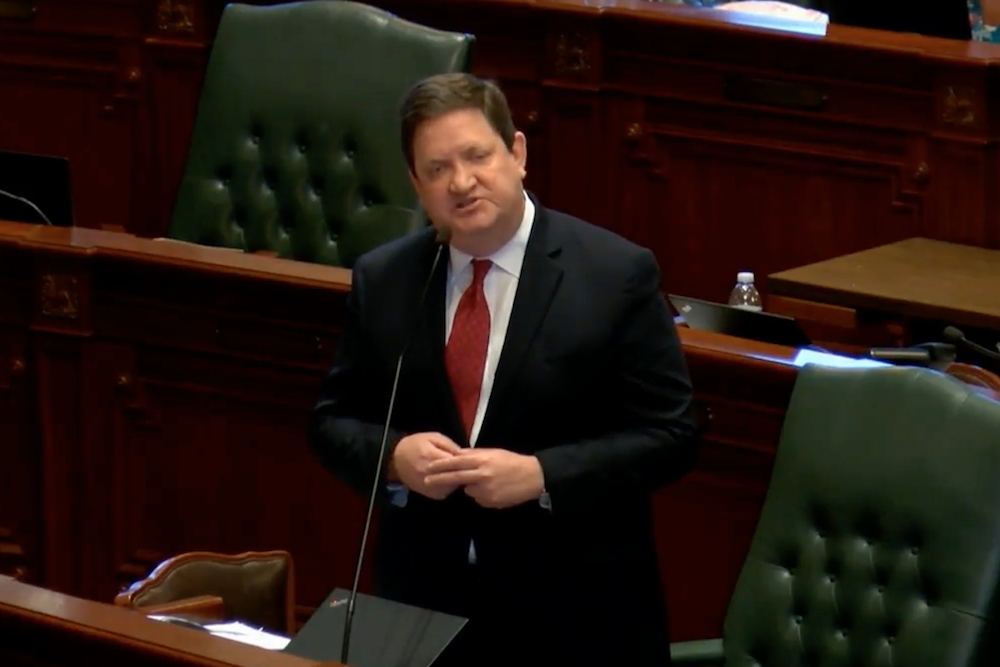 Illinois state Rep. David McSweeney (R-Barrington Hills)
Illinois state Rep. David McSweeney (R-Barrington Hills) has renewed his fight for a ban on red-light cameras in the wake of reports that such a company is at the center of the federal probe of longtime state Sen. Martin Sandoval (D-Chicago).
"I'm fighting to ban red-light cameras in Illinois," McSweeney recently posted on Facebook. "Red-light cameras are being used to raise revenue, not improve safety."
According to the Chicago Tribune, Sandoval, who serves as chairman of the powerful Senate Transportation Committee and had his office raided last month by federal agents, has ties to Safespeed LLC, which has earned millions of dollars through its red light-camera business in Chicago's suburbs. Over the last two years, the newspaper reports, Sandoval has interceded with the Illinois Department of Transportation on behalf of the company on several different occasions while simultaneously receiving thousands of dollars in campaign donations from the company's coffers.

Illinois state Sen. Martin Sandoval (D-Chicago)
In addition to the raid on Sandoval, federal agents also executed searches on the village halls of McCook and Lyons, reportedly in search of information about Safespeed.
McSweeney has previously co-sponsored House Bills 322 and 323, both of which would place restrictions on the way local governments can make use of red-light cameras. HB 322 would prohibit new devices or force removal of existing devices in several municipalities without home-rule powers, and HB 323 would apply statewide and span to municipalities regardless of home-rule powers.
In his role as Transportation Committee Chairman, Sandoval was instrumental in getting the recently passed gas tax enacted as part of the state's new $45 billion state budget. According to Illinois Policy Institute, over a four-year span ending in 2015, drivers in the state were slapped with $285 million in tickets that were generated by red-light cameras.