Policy group urges Illinois to consolidate to survive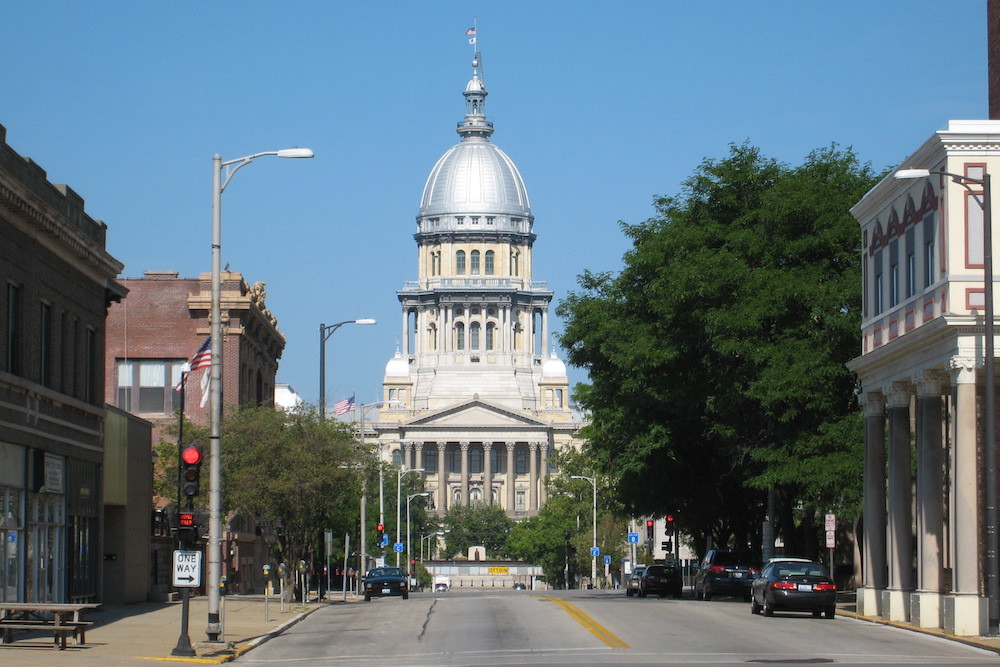 Springfield, Illinois | By Éovart Caçeir at English Wikipedia, CC BY-SA 3.0, https://commons.wikimedia.org/w/index.php?curid=10535377
Rolling together some of Illinois' nearly 7,000 units of government could help lower property taxes in one of the country's most heavily taxed states, according to the Illinois Policy Institute.
Illinois has more units of local government than any other state. The Civic Federation has reported that the five Chicago collar counties average 147 such units, with Lake's 184, DuPage's 174, Will's 159, Kane's 113 and McHenry's 104. Those areas are saddled with some of the highest property taxes in the state if not the highest in the country.
Rep. Sam Yingling (D-Grayslake)
As a further example of the head-scratching puzzle taxation in Illinois has become, the institute points out that Lake County has 10 more units of government than DuPage, despite having just 75 percent of its population. Lake also has more municipalities (45) and townships (18) than any of the other collar county.
In the end, Lake County residents are saddled with the 21st highest property taxes in the nation, at a median rate of $6,881. DuPage stands at 27th, at $6,274. Overall, the collar counties constitute five of the top six highest property-taxed counties in the state.
The bottom line: 9,000 disgruntled residents left DuPage County over a yearlong period beginning in 2015 and another 5,000 from Lake County weren't far behind.
The institute argues that things can be turned around with consolidation, such as among school districts.
Illinois has 859 local school districts, the fifth most in the nation, but many of them serve a dwindling number of students and could easily be rolled into other units, particularly given their rising administrative costs.
According to the institute, by simply cutting the number of school districts in half, the state could save up to $170 million annually in operating costs. Researchers added that even those savings are merely a drop in the bucket compared with the up to $4 billion the state could save in pension costs over the next 30 years by making the cuts to school districts.
The institute also said duplication and redundancy isn't limited to municipal government. In Lake County, for example, Round Lake, Round Lake Beach, Round Lake Park and Round Lake Heights employ different police departments, village administrators and elected officeholders in positions with salaries of up to $180,000, despite none of their populations exceeding 30,000 people. By consolidating the services of Round Lake and Round Lake Beach, taxpayers could save as much as $3 million annually, the institute said.
The institute also argued that a 2016 bill that would have made it easier for local governments to consolidate operations fell short when Rep. Sam Yingling (D-Grayslake) added crippling amendments, such as the prevention of any reduction in compensation or benefits for union-represented government employees if the unit of government they were assigned to were dissolved.
Further complicating the issue are the findings of a recent Paul Simon Public Policy Institute survey that found taxes are the No. 1 reason people are leaving Illinois.
As recently as 2012, DuPage County launched an initiative to look for ways to consolidate local government. Area residents have followed, with Naperville voters in 2016 overwhelmingly voting to support consolidation efforts at the local level.
Want to get notified whenever we write about
Lake County
?
Next time we write about Lake County, we'll email you a link to the story. You may edit your settings or unsubscribe at any time.
Sign-up for Alerts
Organizations in this Story
More News