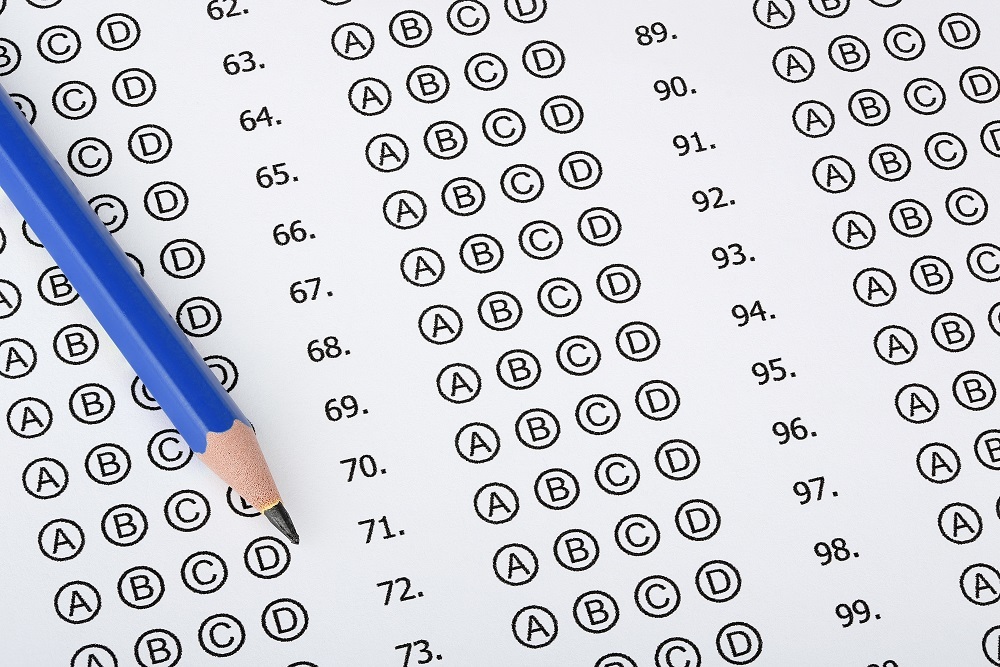 About 0.7 percent of Carman-Buckner Elementary School students passed annual math assessments in 2018 and nearly all of students failed, according to a Lake County Gazette analysis of
the latest Illinois schools report card
.
The Partnership for Assessment of Readiness for College and Careers, or PARCC, is administered to third- through eighth-graders in Illinois, testing them in reading and math based on Common Core standards.
According to Carman-Buckner Elementary School math scores, about 0.7 percent met expectations and none exceeded them. Students whose results are in either category are considered to be most ready to move on to the next level and are most prepared for college or work.
Another 14 percent approached expectations, while 27 percent partially met expectations and 58 percent did not meet them. Students who scored in these categories are not ready for the next level of schooling, according to the test.
Test results at Carman-Buckner Elementary School, which enrolled 606 students in 2018, fell below state averages.
Statewide, 31 percent of students passed the test and 69 percent failed.
Of students statewide who passed, only five percent 'exceeded' expectations.
Carman-Buckner Elementary School's math scores over 4 years
How Lake County schools' math scores compare

South Park Elementary School

Everett Elementary School

Prairie Elementary School

Ivy Hall Elementary School

Braeside Elementary School

Kildeer Countryside Elementary School

Rockland Elementary School

Copeland Manor Elementary School

Ravinia Elementary School

Grove Avenue Elementary School

Cherokee Elementary School

Kipling Elementary School

Hough Street Elementary School

Sheridan Elementary School

Lincoln Elementary School

North Barrington Elementary School

Country Meadows Elementary School

Roslyn Road Elementary School

Hawthorn Elementary School South

Deer Path Middle School East

Sarah Adams Elementary School

Isaac Fox Elementary School

Hawthorn Aspen Elementary School

Sherwood Elementary School

Lake Bluff Elementary School

Spencer Loomis Elementary School

Hawthorn Townline Elementary School

Millburn Elementary School

Indian Trail Elementary School

Antioch Elementary School

Seth Paine Elementary School

Oakland Elementary School

W. C. Petty Elementary School

May Whitney Elementary School

Hawthorn Elementary School North

William L. Thompson School

Red Oak Elementary School

Wayne Thomas Elementary School

Fremont Intermediate School

B. J. Hooper Elementary School

Avon Center Elementary School

Little Fort Elementary School

Woodland Intermediate School

Gavin Central Elementary School

Big Hollow Elementary School

Hawthorn School of Dual Language

Mechanics Grove Elementary School

Greenwood Elementary School

Andrew Cooke Magnet Elementary School

H. R. McCall Elementary School

Oak Terrace Elementary School

Glen Flora Elementary School

John S. Clark Elementary School

Village Elementary School

Round Lake Beach Elementary School

Raymond Ellis Elementary School

Hyde Park Elementary School

W. J. Murphy Elementary School

Indian Hill Elementary School

Washington Elementary School

Diamond Lake Elementary School

Whittier Elementary School

Newport Elementary School

Lyon Magnet Elementary School

Oakdale Elementary School

Glenwood Elementary School

Forrestal Elementary School

Learn Charter 9 Campus In Waukegan

Elmwood Elementary School

Clearview Elementary School

A. J. Katzenmaier Academy

Shiloh Park Elementary School

Beulah Park Elementary School

Carman-Buckner Elementary School
Top 20 Illinois schools' math scores
Thurgood Marshall Elementary
Decatur Classical Elementary School
Meadow Glens Elementary School
Milledgeville Elementary School
South Park Elementary School
Middlefork Primary School
McDade Elementary Classical School
Everett Elementary School
Central Elementary School
Prairie Elementary School
Greeley Elementary School
Beecher City Grade School
Wescott Elementary School