A group of people tour the Hastings Dairy in Ohio. | Photo copyright Farm Bureau Federation
Lake Bluff History Museum recently issued the following announcement.
Tickets to the 10 am tour are SOLD OUT. We hope to add a second tour at 1 pm. If you would like to be notified when tickets become available, please email tickets@lakebluffhistory.org and provide contact information and the number of tickets desired. Thank you!
On September 28, the Museum hosts a popular tour of the Crab Tree Farm Arts and Crafts Collection. The Arts and Crafts Collection is housed in five buildings on the property located at 982 Sheridan Road in Lake Bluff. The tour lasts approximately 1 1⁄2 hours.
Crab Tree Farm was built in 1910, after fire destroyed the original farm buildings. The buildings were designed and built, by Architect Solon Spencer Beman, as a model dairy farm for Grace Durand. Durand was a successful businesswoman who was trained in agricultural science and was well known for her modern methods of dairy farming. The farm buildings have undergone extensive renovation since Durand's time and now house the finest collection of Arts and Crafts furnishings in the country. The collection includes furniture that is the work of Gustav Stickley, plus ceramics, textiles, paintings and other artwork by Stickley's contemporaries.
When: Saturday, September 28, 2019 at 10 am
Where: Crab Tree Farm, 982 Sheridan Road, Lake Bluff, IL
Cost: $35
Tickets to the 10 am tour are SOLD OUT.
Original source can be found here.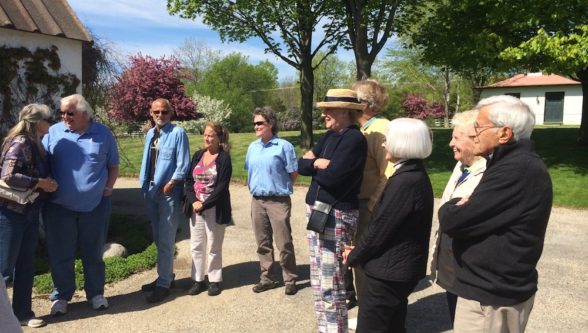 Source: Lake Bluff History Museum